Description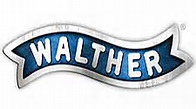 Walther P22 Target Pistol
The .22 rimfire handgun will never look the same. The P22 changed everything. Walther adapted the tactical styling and Performance Design concepts from our centerfire handguns and applied them to the .22 L.R. This created a new movement in the design of contemporary rimfire handguns … and an explosion of imitators. As a stylish, fun gun to own, the P22 is at home on the shooting range, around the camp or in a museum of modern art.
LOW PROFILE THREE DOT POLYMER COMBAT SIGHTS:
Rapid aiming and target acquisition. Rear sight adjustable for windage. Low profile won't snag clothing.
THREADED BARREL:
Threaded for suppressor. Easy to change to/from target barrel. Barrel wrench provided. Thread Size: M8x.75.
PICATINNY STYLE ACCESSORY RAIL:
Mounts optional flashlight or laser.
SERRATED TRIGGER GUARD:
Perfect for tactical two-handed grip stance.
DOUBLE/SINGLE ACTION TRIGGER:
11 lb trigger pull for double action. 4 lb trigger pull for single action.
PADDLE-STYLE AMBIDEXTROUS MAGAZINE RELEASE LEVER:
Fast, no-look magazine changes.
LOADED CHAMBER INDICATOR:
Quick status inspection.
FRONT AND REAR SLIDE SERRATIONS:
Non-slip surface to operate the slide. Distinctive Walther styling.
EXTERNAL SLIDE STOP:
Slide locks back on empty magazine.
ERGONOMIC WALTHER GRIP:
Comfortable shape. Small size ideal for small hands.